About Us

FAQs
Chimney Cowls

What is a Chimney Cowl?

A chimney cowl is a product that is fitted to the top of a chimney pot or flue with the basic goal of enhancing and improving the ability for a chimney or flue to function. Chimney cowls can and have been made of many different materials over time but usually they are either clay, or more commonly cowls are made from metals such as stainless steel, steel or aluminium. Generally speaking chimney cowls are designed to combat 3 main issues. These include:

Downdraught in chimneys and flues

In simple terms, downdraught is a problem that occurs as a result of air being forced back down a chimney. This is most frequently caused by wind which causes positive pressure at the top of a chimney. For example, wind may flow down towards the top of a chimney after passing over obstacles such as trees, neighbouring roofs, and any other obstacles it might encounter. Wind can also flow up a building and approach a chimney from below. All these factors can create downdraught. Colt Cowls produced the first commercially successful anti downdraught cowl in 1931 namely the 'Colt Cowl' which was designed to create lift, much in the same way an aircraft wing might. Since that time, over 3 million of the original Colt Cowls have been successfully installed to solve downdraught issues. In 1985 Colt Cowls developed the Colt Top which performs in the same way but is additionally multi directional. Around 1 million Colt Tops have been successfully installed since. Both these chimney cowls come with the unconditional Colt Cowls Money Back Guarantee. That is to say, if the cowl does not solve your downdraught issue you will get your money back!

Rain entry in chimneys

Rain entry in chimneys can cause a multitude of problems. These include everything from damp patches on chimney breasts within the home to stoves becoming filled with water and leaking nasty dirty water in your living room. Either way, this is an undesirable problem which can be helped by the installation of a good quality rain cowls such as the Rain Top Earthenware

Bird entry in chimneys

Birds entering the chimney can cause massive problems. Apart from having a bird potentially arrive inside your house to do untold damage to your furnishings, chimneys are also a favourite nesting area. Larger birds can deliberately jam large sticks inside a brick chimney to form the base structure of a large birds nest. This can lead to the chimney becoming totally blocked which may remain undiscovered which is dangerous particularly if the fireplace becomes live again. The nests, twigs, sticks and debris bought in by birds can stop the free flow of gases and even cause danger by stopping the safe evacuation of deadly carbon monoxide gas. In chimneys with gas or electric appliances, birds can fall down and get trapped causing nasty odours as they decompose. In short, this problem is easily resolved by the installation of a good quality chimney birdguard cowl such as the High Top Birdguard The High Top Birdguard is by far the best quality and most popular birdguard chimney cowl sold in the UK.

How long has Colt Cowls been in operation?

The first Colt Cowl was introduced in 1931 and Colt Cowls have been the market leader ever since. In more recent decades the product range has expanded greatly to include not only chimney cowls, but also stove fans, chimney liner, twin wall flues and more.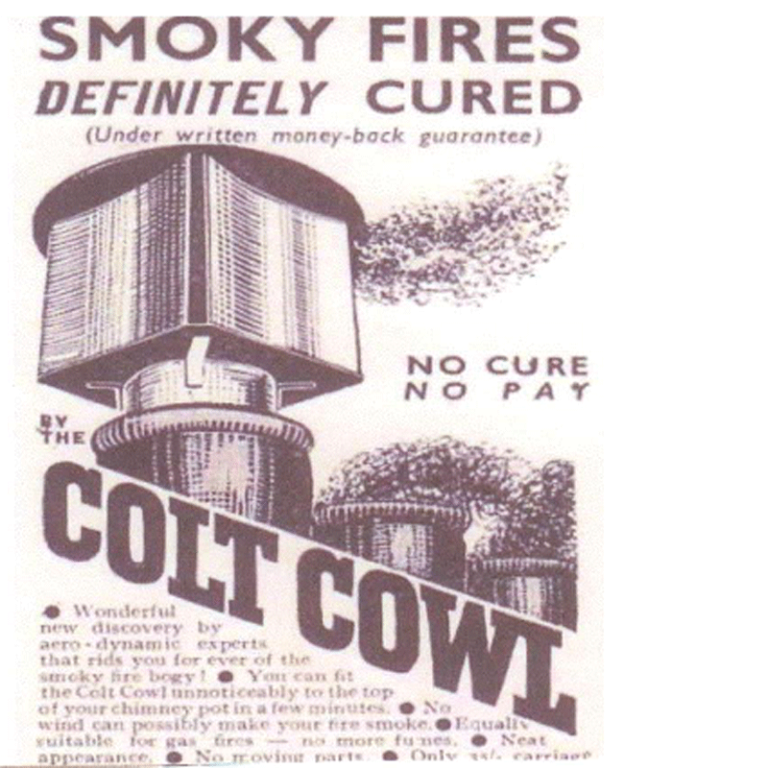 Original advert from circa 1950's

Why are Colt Cowls regarded as the best quality chimney cowls available?

In simple terms, Colt Cowls have been producing chimney cowls longer than anyone else. They have successfully sold and had installed over 4 million chimney cowls over their 80+ year history. Therefore Colt Cowls have far more experience of solving chimney problems than any other competitor on the market, and unlike other cowl manufacturers who have sprung up over the past decade or so Colt Cowls have products that have stood the test of time. There are still hundreds of thousands of Colt Cowls that are still functioning on chimney pots all over the UK! Quality has always been of the utmost importance to Colt Cowls, and we believe that a chimney cowl that will last a longer period of time, and function as it should do, provides better value than one that may be lower cost, and requires replacing after a short period of time or does not solve the chimney problem.

What are Colt Chimney Cowls made from?

Chimney cowls can be made from a wide variety of materials, but Colt Cowls makes chimney cowls from a variety of metals.
Colt Cowls make a wide variety of different styles of cowl. The majority of our products (and some of our most popular) are manufactured from aluminium (for example: the Colt Top All Purpose, the Colt Top 2, the High Top Solid Fuel & Gas, the Rotorvent Ultralite 2, etc.) Most of these products are given a terracotta powder coating in order to increase corrosion resistance, as well as help match the colour of chimney pots
We also offer many of these products in a tougher stainless steel version (for example: the Colt Top 2 Stainless Steel, the High Top Stainless Steel, the Rotorvent Turbolite, etc.), as well as providing original products which are purely made of stainless steel (for example, the High Top Flex, the Colt Top Flex, & the Cone Top Birdguard, etc.) Stainless steel is the most durable material that a chimney cowl can be made from.
Some of our lower cost products (like the Top Lid 3, Rain Top Earthenware, or the Decorative Birdguard) are manufactured from durable steel.

What fuels do Colt Chimney Cowls work on?

Colt Cowls are suitable for a range of fuels including, solid fuel, gas, oil, and smokeless fuels. Please reference our catalogue (which has a handy fuel suitability chart for each cowl) or get in touch on 0870 2411041 with any queries about specific cowls.

What British Standard European Norm standards are required for chimney cowls?

Where relevant all chimney cowls comply with BSEN-1856-1:2003, and all gas chimney cowls comply with BS5871. BSEN-1856-1:2003 is the main regulation required for chimney cowls.

Why do Colt Cowls recommend removing the birdguard mesh from the Colt Top & Colt Top 2 range?

This is purely aimed at people who intend to use the Colt Top or Colt Top 2 products on solid fuel fires. The Colt Top ranges are fitted with a birdguard mesh that complies with gas regulations. The gas mesh has a gauge of 16mm (a 17mm ball bearing should not be able to pass through at any point) as opposed to the solid-fuel mesh which comes with a gauge of 25mm (the obvious differences can be seen when comparing our High Top Solid Fuel and High Top Gas products as seen below).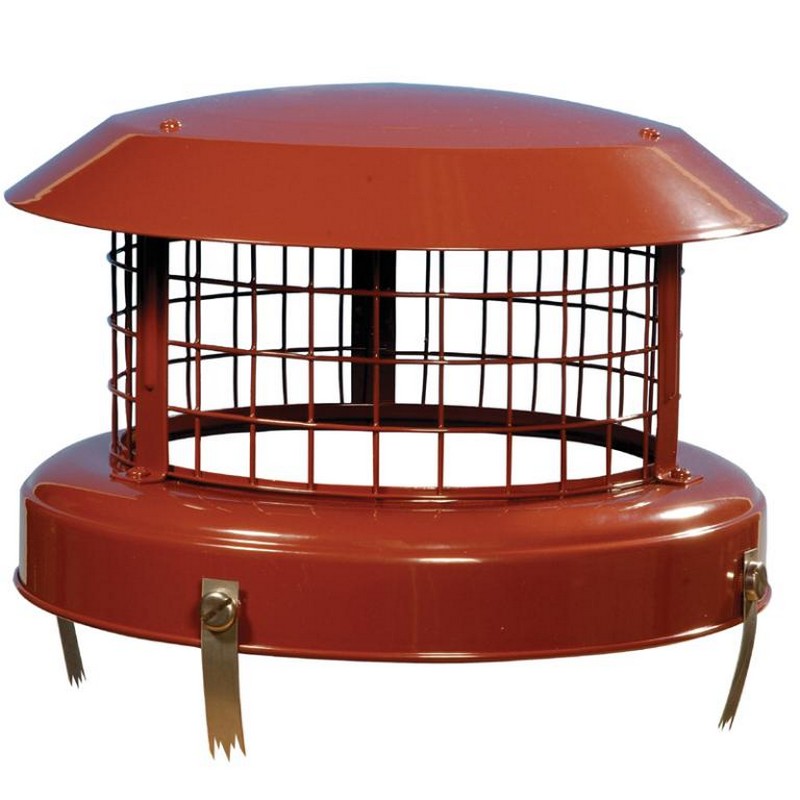 High Top product with a mesh suitable for solid-fuel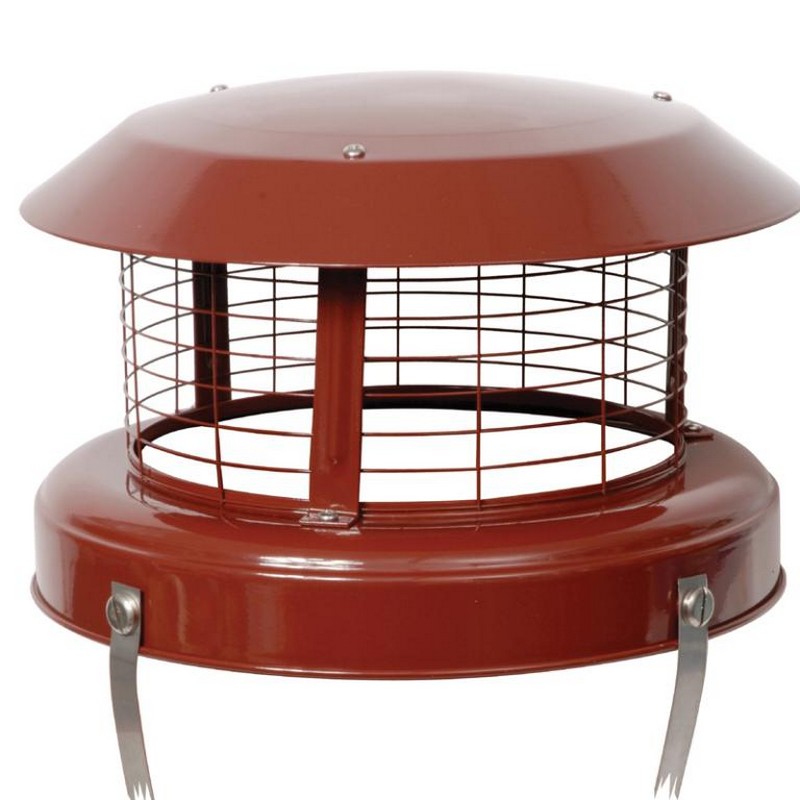 High Top product with a 16mm mesh suitable for gas

There have been reported cases of debris from solid fuels (such as wet or unseasoned wood or even coal) clogging up the spaces in the finer gas mesh. This can cause two problems. Firstly, the clogged birdguard can cause a restriction to the flow of gases out of the chimney. Secondly, in extreme cases, the extractives clogging the birdguard could get ignited by a spark potentially causing a chimney fire. This is why we recommend removing the gas mesh from the Colt Top's and Colt Top 2's when used on solid-fuel.

When should Rotorvent® Revolving Chimney Cowls be used?

Colt Cowls will always recommend that a customer tries a static anti downdraught cowl in the first instance when they encounter a downdraught issue. The reason for this is really twofold. Static Anti downdraught cowls like the Colt Top and Colt Top 2 chimney cowls have been solving chimney problems for years, and come with a money back guarantee, so you can't really lose…if it doesn't solve your problem…you get your money back! Secondly the static anti downdraught cowls are less expensive and if we can sell our customers a cowl that solves the problem and saves them money we will do!
Therefore in the first instance if a static anti downdraught cowl has been installed and it has not solved the downdraught issue we would advise trying a Rotorvent®. Rotorvents® will also help some chimneys where they suffer from a lack of draw. The revolving blades of the Rotorvent® help increase draw in a chimney and the evacuation of fumes. However, it must be remembered that air movement is required at the top of a chimney for the blades to start turning and increasing the draw. Rotorvents® can also be used as ventilators or on land fill sites to help with the extraction of methane and other gases.

What are the circumstances in which the use of Rotorvents® should be avoided?

Rotorvents can be used in the majority of cases when dealing with a downdraught issue, however we recommend that Rotorvent products should not be used under the following circumstances:
• In areas of extremely high wind speeds. Typically these would be in coastal areas, usually in very Northern location such as the Scottish Islands etc
• On chimneys less than 4m in height. These would typically be bungalows, as most houses have chimneys in excess of 7m
• On the top of chimneys that are likely to exceed 250 °C. This is an extremely high temperature to come out of the top of a chimney and would usually only occur when installed on a high wattage stove which has a very well insulated flue system. Again, the shorter the chimney, the higher the temperature is likely to be
• When wet or unseasoned wood is being burnt. This is a fairly obvious piece of advice as unseasoned wood causes a lot of tar to be produced when it is burnt. This sticky substance is the nemesis of a mechanical product as it can lead to the bearings and spindle slowly seizing up. Well-seasoned logs are fine, as is the majority of smokeless fuels

What is the life expectancy of a cowl?

Colt cowls are manufactured to the highest quality and so can be expected to operate for many years. In fact over 4 million Colt Cowls have been successfully installed since 1931 and a huge number are still there decades later! We also have a Money Back Guarantee in place for any anti-downdraught cowl that fails to solve fix your downdraught problem (smoke blowing back down the chimney) as we're that confident in what they can do!

Do fixings come with the products?

All products come with the appropriate fixings and so you have no need to buy additional fixings unless you wish to for spares or in addition.

Do you supply Chimney Pots, H Cowls, 'Dragon Cowls', 'Lobster back' cowls?

No. All products that we supply are shown on our website. Our range of chimney cowls solves all known chimney products and we believe is a comprehensive offer.

What are the diameters shown on the product pages?

They represent the internal measurements of the chimney pots and flues that the cowl is suitable for.

What is your standard delivery time?

Please note we cannot quote delivery times for any of the distributors or Builders Merchants you might purchase your Colt Cowls from. However delivery times from Colt Cowls are as follows.

Free Next Working Day Delivery (Trade customers only)

Free next working day delivery is given for all cowl products towards all areas of mainland UK (Wales, Scotland, England) provided the cowl is ordered prior to 13:30. The only exception to this rule is for the 4 most northern postcode regions (AB, IV, KW, PH) which have a free 2-working day delivery.

Offshore

Any products going offshore (for example, Northern Ireland, Isle of Wight, Isle of Man, Channel Islands, Scottish Islands) a carriage charge will be in effect. This charge will vary depending on quantity and weight of items. Any orders to be delivered to these regions must be placed via our Head Office over the phone (0870 241 1041) so that these charges may be applied.
Distribution

Where are your Colt Chimney Cowls available?

We supply a number of different builders merchants for example Jewson, Toolstation, BES, Flue Supplies and Flue Systems, chimney sweeps, installers, and fireplace centres. For specific suppliers in your area please get in touch with us a 0870 241 1041 or at enquiries@coltcowls.co.uk.

Flexible Flues

What is a flexible flue liner?

A flexible flue liner is a twin wall stainless steel system used to line the inside of your chimney giving the fumes from your fireplace or stove a direct access to the chimney pot. They attach directly onto stove pipes or gather units using an adapter and can be suspended from the pot by being attached to pot hanging/flex cowls or by using fixing plates and clamping brackets.

What do Colt Cowls manufacture?

Colt Cowls manufacture the accessories such as the adapters, fixing plates and clamping brackets. We also manufacture our High Top Flex and Colt Top flex products. The liner we have made to order and dispatched for next working day. We also stock flue pipe (both vitreous enamel and stainless steel single skin), and twin wall insulated flues.

What type of chimney liner do you supply?

We can supply two different types of flexible liner, both of an extremely high quality. We provide 316/316 grade liners for 125mm, 150mm, 175mm, & 200mm inner diameter with a 15 year warranty. We also provide the stronger 904/316 grade liners for the same measurements with a 30 year warranty. If you are interested in any special diameters please get in touch with us on 0870 241 1041 or enquiries@coltcowls.co.uk.

What is your delivery time on chimney liner?


Next Day Delivery

We supply flexible flue liner next working day to Wales, England, and Scotland at a carriage cost of £16 + VAT. To post code regions AB, IV, KW, & PH the carriage is 2 days and the cost is £30 + VAT.

Offshore

For deliveries to locations outside mainland UK (Northern Ireland, Isle of Wight, Isle of Man, Channel Islands, Scottish Islands) further carriage charges are to be expected.
More FAQ's...?
Clearly a comprehensive list of every frequently asked question on every single product Colt Cowl product we sell would be practically impossible...but if you do have a question which is not answered above then please contact us on our live chat or call 01243 781559 between the hours of 08.30am and 5.00pm Monday to Friday. If it is out of hours, you will see 'Offline' displayed as below so simply leave us an e mail and we will get back to you promptly when the office reopens.