Chimney Cowls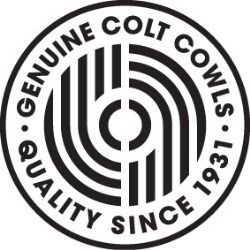 Colt Cowls supply the largest range of chimney cowls in the UK, and have a reputation for producing the highest quality chimney cowls and chimney birdguard cowls available on the market.
For over 80 years Colt Cowls have been supplying the UK market with chimney cowls and can therefore boast the most experience in designing and producing chimney cowls. In fact, since 1931 over 4 million Colt Chimney Cowls have been successfully installed in the UK!
No other chimney cowl manufacturer can claim the same.
Below: Colt Cowls adverts from around the 1950's - over 4 million Colt Chimney Cowls have been sold in the UK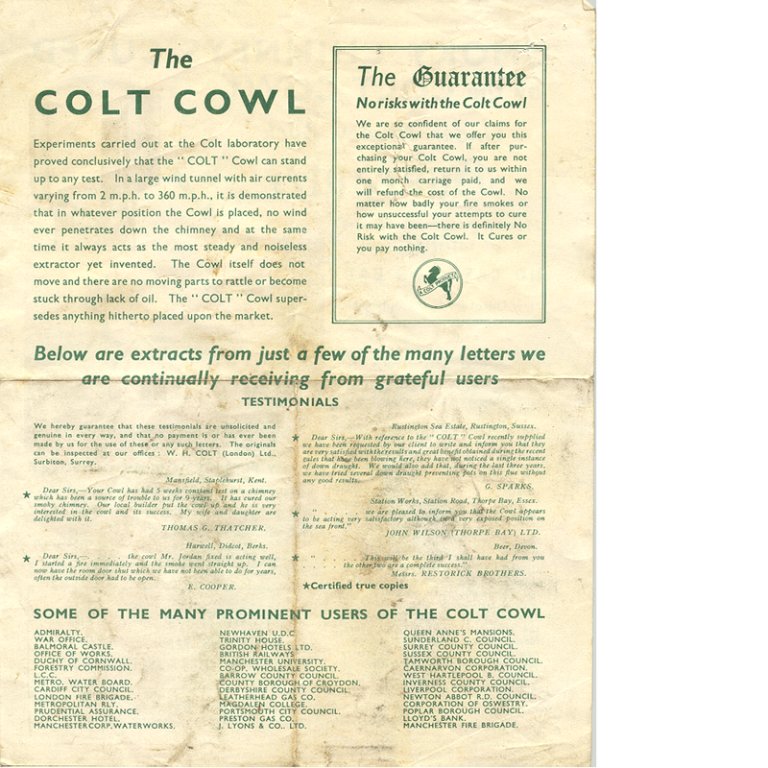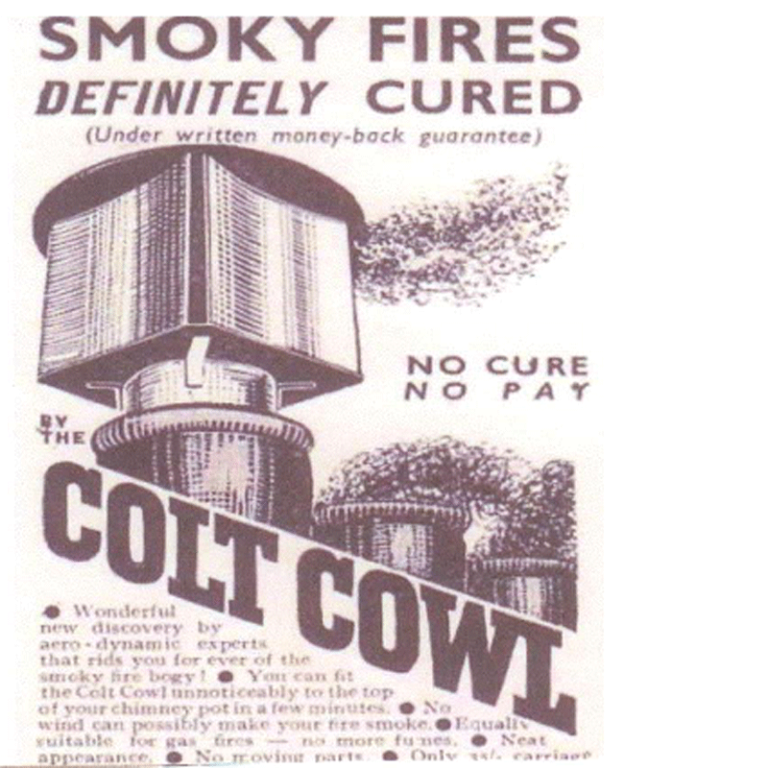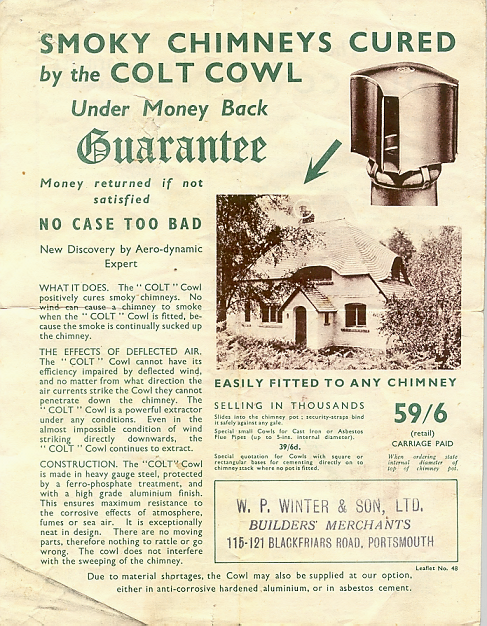 The first commercially successful chimney cowl was the Colt Cowl which was launched in 1931 with the now famous Money Back Guarantee. That is to say that if the chimney cowl did not solve your smokey fireplace, you would get your money back! The same Colt Cowls Money Back Guarantee still exists today on a much expanded range of chimney cowls. Today the range of products supplied by Colt Cowls includes static anti downdraught chimney cowls, revolving anti downdraught chimney cowls (Rotorvents®), chimney birdguards, rain cowls, chimney liner (flexible flue liner), stove pipe, stove fans, and a complete range of Twin Wall Flue and Twin Wall Flue Systems.
Low cost chimney cowls

Recently, Colt Cowls have also launched the new ECONO range of chimney cowls and birdguards including the Econocowl®, the Econolid® and the Econoguard® & Econotop® which are all aimed at the budget chimney cowl end of the market.
The best quality chimney cowls on the market
Colt Cowls are rightly proud of the quality of chimney cowls they produce, and are the ONLY chimney cowl brand with BSI Kitemarked chimney cowls, and or course where relevant all Colt Chimney Cowls are tested and certified under the new regulation BSEN 16475-7:2016 and BSEN-1856-1:2003.
All Colt Cowls are manufactured in an ISO 9001:2015 accredited factory. To be sure you are getting Colt Cowls quality please look for a holographic version of the Colt Cowls Quality Mark above. This hologram only appears on official Colt Chimney Cowls so you can be sure you are getting the genuine article, and not an imitation.
Colt Chimney Cowls are available through all good Builders Merchants and Fireplace/ Stove distribution centres. Please call us on 0870 2411041 to be put into contact with your most appropriate local supplier(s).
For high quality Japanese Garden Tools visit www.japeto.co.uk